I, for one, greatly enjoyed this year's Academy Awards! When I heard Seth Macfarlane was the host I said, this could go really well or really badly, and it will be totally up to how Seth wants to take this that decides how it will be. Well, I have to say that I thought he did a really great job. He really didn't just skewer the audience, and when he did, the actors seemed to be in on the joke, as was evidenced in the "Boob Song." Which was, quite hilarious. I also knew that Seth was a tremendous musician and even came out with a jazz CD, but I didn't know he could sing so well. The numbers that included Channing Tatum, Charlize Theron, Jordan Gordan Levitt and Daniel Radcliffe were such a wonderful surprise. And how about the music this year! Tremendous.
And I am sorry, be he is absolutely adorable.
But we realized that he does share a striking resemblence to a certain Brady son...
They could seriously be father and son.
Anyway, I am SO excited that Argo won this year. I mean, it was the only movie I'd actually seen, that was good. But it's a really good movie. If you haven't seen it, it's worth your time.
And how cute was Ben Affleck's acceptance speech?
Best Dressed of the Night...
Charlize was absolutely stunning!!
Worst everything of the night...
We get it, Kristen. You are too cool for awards shows. You don't care to fix your hair. You don't want to be bothered to stand up straight while one stage. You look like a unpopular kid in high school, begrudgingly accepted by the popular kids but not wanting to be there the whole time. Grow up. Look like an adult. Stand up straight. Fix your hair. Gees!
Best Speech of the Night...
What a classy, classy guy.
Worst Speech of the Night...
I love her. I really do. I think she is as cute as a bug with that hair. But I am glad the awards season is over, because if I had to hear her make one more speech I was just going to have a fit.
Best Surprise Moment of the Night..
What good sports to come out and do that. I really thought Charlize took herself too seriously to come out and do a campy number like that, but apparently I was wrong.
Worst Surprise Moment of the Night...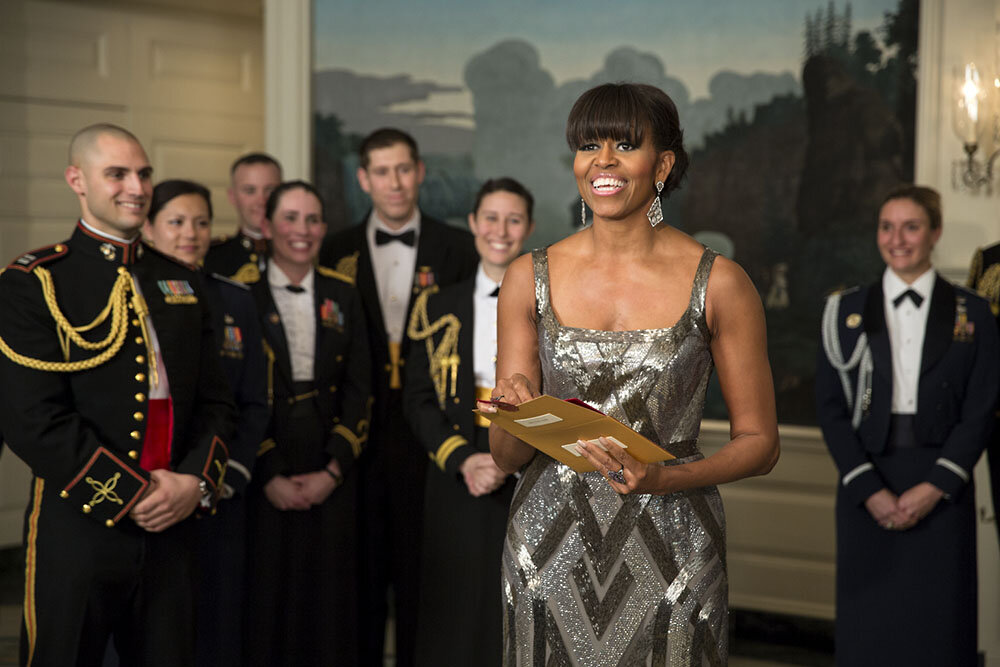 I am sorry, but what was this about? And what was with the speech? I for one think that stuff like this, celebrity shows that serve no political purpose whatsoever, are for after your family leaves office. NOT for us to see that this is how you are spending your time and our tax payers money on a new dress for the occasion (although, I am pretty sure this was sent to her by some designer). After he is done, you present all of the Academy Awards you want. But right now, being on this show should be the least thing on your mind, no matter how fun it may seem.
This dress is from WHERE?
Did you know that this dress is from H&M? Just sayin. That's cool.
Coolest Couples on the Red Carpet...
There are several! But these are my top four.
How proud did he look of her?
I just love Stacy and George and I love that she always always looks like she is having so much fun!
I don't know why...maybe because his wife looks normal and he loves her so much?
And oh my goodness, I love these people so much too...Ben and Jenn are just awesome.
So, a funny story in our family. My dad USED to watch this show. That is, until travesty struck. He has never forgiven the Academy, and has boycotted the awards when THIS movie...
beat out THIS movie.
I mean, he is right. They get it wrong sometimes, don't they? I mean, you nominated the BEST PICTURE movie but not the DIRECTOR. Morons. Who won? Now I can't even remember. Oh yeah. Ang Lee. Poor Spielburg.
Have a great night everyone!