My in laws are coming tomorrow to stay with us for a little while, so we have been busy, busy little bees for the last week trying to get things ready. I've made all of my Christmas gifts this year (but of course, I can't show them to you, don't want wondering eyes to see.) Well, I've made them all except the kids. I must say, I have surprised myself with what I can do. I have a few projects that I've done for others that I'd like to do for myself!
I haven't posted Avery pictures in a few days so I thought I would show you my big girl.
In the mornings, we move the highchair into our room while we get ready so Avery can eat some breakfast and watch some TV. Lately it's been the Wiggles, but I don't think she is that attached to it yet. Have I told you all how much I love having wood floors? And dogs that will come back behind food thrown on the floor?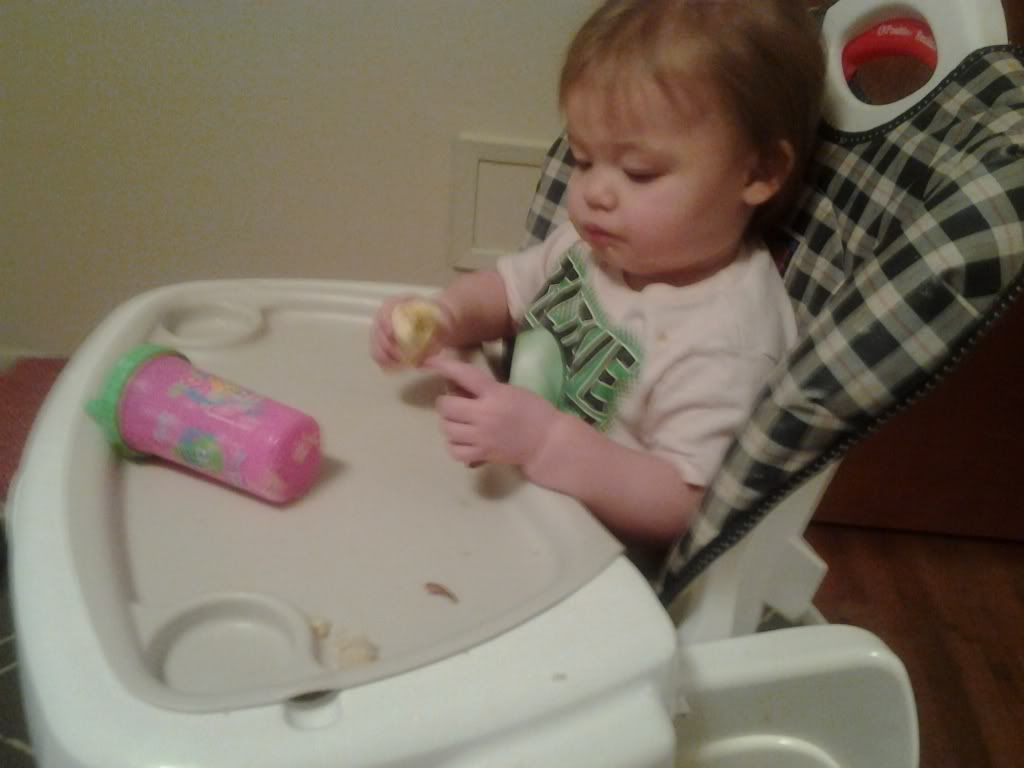 My daughter is just a delight. She really is a joy every day. She is the light of my life and I love, love, love watching her and observing all of the things she can do. To watch her walk now, you'd think she's been doing it forever. But she still has that toddler, bow legged thing going on, that makes us laugh sometimes. Especially when she gets to walking really fast.
Her new words she can say are "night night," "ewww," and "go go go" (Jason has taught her that for when they are driving).
Her hair is long enough for pig tails, but it's in that weird, sticking up like horns thing and I don't have a set of matching small bows. So lately, it's just been a ponytail.
If you'll notice in the picture above, she has her dolly by the leg, carrying it around. That little leg is about to come off! She can't carry a doll or animal unless it's by the leg, which is odd, but that's what she does. She's not really interested in toys much, just books and stuffed animals. And stuff she's not supposed to have. We actually decided that this year, she would only get three small toys from us and a couple from Santa. I've seen a ton of stuff, but I just know it will sit on the ground and she won't play with it. I got her one of those pull string toys, which I think she will really like. She likes to drag things around.
Jason says she looks like me and I think I would agree! But she is much more beautiful than I am - my husband and I made one good looking baby, I think!!
One more working day until I am off for five days! Yeah!