My poor poor breakfast nook has been sorely neglected in the last three years.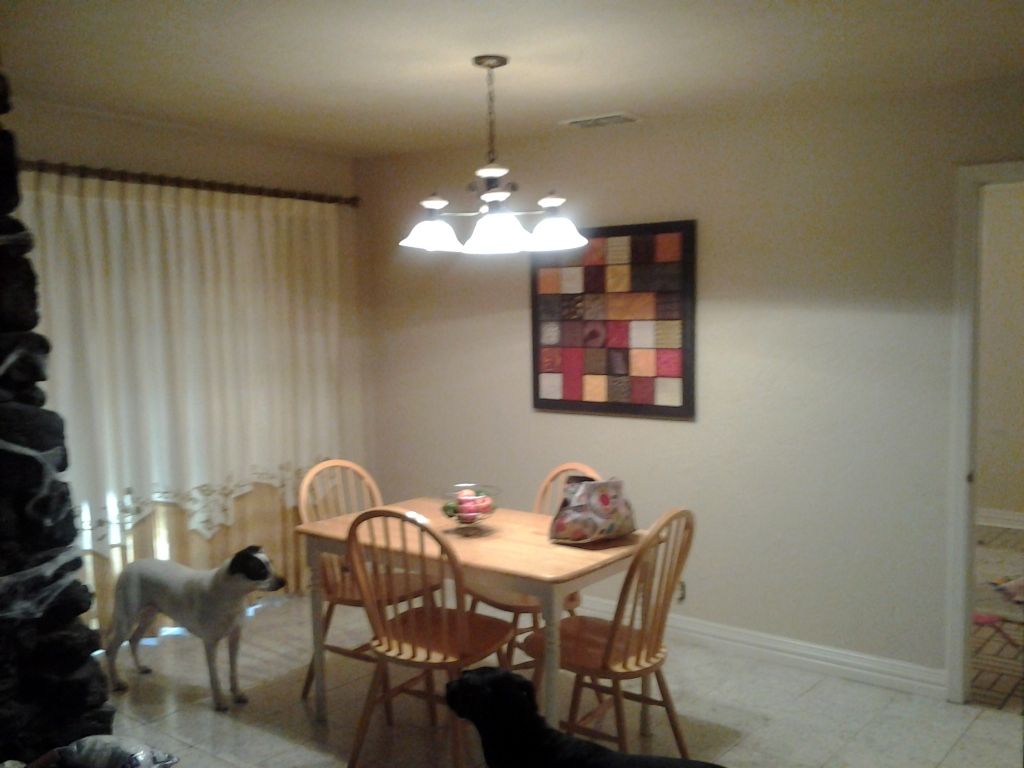 I bought this table and chairs on Craigslist as something just to fill the space when we first moved in. The curtains were leftovers from the previous owners.
I redid the table with a herringbone pattern and got four hand me down chairs and replaced the curtains grey. It worked ok for a while, but we never ever went in that space. I never finished the table correctly and the grey, white and red color scheme just never worked for me 100%. This room was probably the last of all of my rooms I was worried about. As you can tell, it has become a catch all for nonsense.
Until this week, of course.
I've had quite a few pieces of furniture given to me this week, including some new furniture for the girls' room. It gave me an idea to move Avery's dresser into the space. I also had quite a bit of the Oops paint leftover and decided, since I had all of the supplies, why not?
Here is the space now!
I've always wanted to stencil something and now was my chance.
This dresser is on it's fourth life now, with it's third paint job in the last three years.
Here is what I literally just painted it in December.
Here is it now.
Stenciling really wasn't as hard as I thought it would be. I just had to paint the dresser white first. I found the stencils at Home Depot. They laid flat when the drawers were upright. I would just lay the stencil down, then using a smaller roller, roll the paint over. Up close, this is absolutely not perfect. I liked it that way. The brown I used was the cheap acrylic paint you find at Walmart or Michaels for 97 cents, just because I had it one hand. I painted the top of the dresser brown, but I didn't like that, so I stenciled the top too. It was way too busy so I painted the top white again. Sometimes, you just don't know what it's going to look like until you do it.
This paint photographs a lot more green than it looks. It really looks like a coffee color.
The chairs still have red seat covers, which will be recovered.
One of the coolest features about this space is that the lava rock fireplace wraps around and creates a wall. Painting around lava rock isn't easy, let me tell you! (and of course, in the background is my new soda machine. Ridiculous.)
It feels like a restaurant in a lodge with that rock in the background.
I tried to capture the lamp light, but of course, I need a few more photography classes. I just love lamp light, it adds such warmth in a room!
I just ended up taking the curtains down altogether. I pretty much hate sliding doors, I think they are awful, but until I get either new French doors or a wall of windows, they will just have to work. This space opens up to the sunroom, so curtains really aren't necessary. No one can see in and sun doesn't ever shine into this room.
Two rooms down, three to go! Whew!!